"It's like a little art piece in real time."
"Like nothing I've ever experienced before."
"Loved the interaction among strangers."
"Different every time and lots of fun."
More feedback »
---
An easy TERP adjacent experience for stay at home
Take a break with six and a half minutes of physical movement brought to you by TERP Corp.
While we work at home on our new prototype, we wanted to create a connection. While the current health crisis keeps us from a public release, we created a short TERP-adjacent movement phrase for you to try while in your homes. We hope when you carry out these instructions you'll feel energized and elevated.
This can be done in any small space, indoors or outdoors, as the movements stay in one place. Ideally listening via headphones for a more personal, TERP-like experience, but a speaker also works.
Breathe and enjoy.
Link to download mp3 file: https://drive.google.com
- OR -
Play on youtube: https://youtu.be/DjpHDu1hiC0
---
Featured Experiment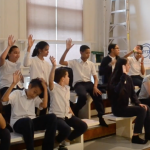 Title: Boost Students doing real-time
Date: Wednesday June 8, 2016
Title: Red Rope
Date: August 30, 2008
Visit the Terp Lab »